The current State Personnel Development Grant, "Project CESCC: Creating Effective School Climates and Cultures," employs the established Safe & Civil Schools training curriculum for positive behavior interventions and supports (PBIS). The Foundations curriculum addresses schoolwide behavior strategies, and CHAMPS (Grades K-6) and DSC (Grades 7-12) provide classroom-level training activities for school personnel.
Central to successful implementation of Foundations, CHAMPS, and DSC is high quality professional development. Our teachers and administrators who make up schools' teams have, in the past, met for training in Pelham or Oxford. At those meetings, intensive instruction and team building by skilled trainers Jacob Edwards, Tom Stacho, and Elizabeth Winford generated enthusiasm for the fundamentals of classroom and schoolwide behavior management.
In November 2019 and February and early March 2020, teams met for Foundations training. DSC training was completed in February 2020. Participant' reactions and evaluations were positive. We were making good progress! We had our summer schedules in place for more Foundations and CHAMPS training.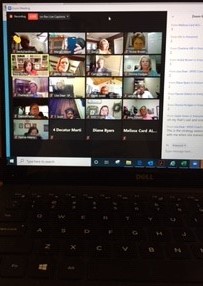 Then came COVID-19.
As schools closed in mid-March, we joined the world in the scramble to adjust. Working with the professionals at Safe and Civil Schools, we were able to establish a schedule that would provide as seamless a continuation of the Foundations and CHAMPS training as possible. Virtual instruction via Zoom, which many of the teachers had already mastered  when their schools were forced to convert to online instruction, became our delivery system. Twenty-four 3-hour sessions accommodated 401 teachers for 1,525 hours of instruction. A few scheduling conflicts prevented some participants from logging on every day, but for the most part, attendance was strong and steady. We definitely missed our human connections, but we did get to peek into some kitchens and back yards and – yes – classrooms. An added benefit was the occasional appearance by a puppy or baby.
While online professional development is different, evaluations indicate that it works just fine. The attendees reported a 94% satisfaction rating for the virtual training sessions. Participants' pre-to-post training learning scores increased by 27%.
We all look forward to the day when we can meet face to face again, but in the meantime, rest assured that training is ongoing and that teams are prepared to meet whatever challenge comes next.